Descra simplifies writing content for e-commerce owners, journalists and content agencies such as SEO and copywriting agencies.


Creating content for an online store containing tens, hundreds or thousands of products is expensive. The cost of writing a single product description can reach up to several dollars - with thousands of descriptions in an average online store, the price increases rapidly. That's why we created Descra - a tool that will assist you in creating hundreds of distinctive descriptions in the time normally required to write just a few.
Read the article on how Descra works or go straight to the examples.
Table of contents
Step one - upload your database
If you want to boost your visibility in search engines you need to provide high quality and unique content. Copying a product description from the manufacturer is not an option - you will not be able to get traffic from search engines using the duplicated copy. And that's where Descra comes into play! Use the product database from your online store to create new descriptions. Use open, public databases to create texts for websites. Prepare articles based on stock market data, data provided by public organizations or any other publicly available database.

database example
Your database is the first step to writing hundreds of descriptions for your website. The variables from the database will be used to generate new texts. That way, you can write dozens or hundreds of texts in the time it takes to write just several.




Step two - write a new text
The next step is preparing a text template. Descra's text editor is designed to make writing an easy task.
1) Use variables
Previously we talked about the use of databases. The uploaded databases will be used as sources for writing texts. Let's say you need descriptions for an online store selling cellphones. Your product database will contain numerous variables such as phone brand, model, phone features, operating system or product price. Start by writing your first sentence, but instead of typing the name of the particular phone model, add the "model" variable.


An example of a sentence written in Descra, utilizing four database variables.
With variables properly added, a template sentence like this can generate hundreds of diverse outcomes, like:
The Xiaomi Mi A3 cellphone was released with the Android 9.0 (Pie) system.

The Apple iPhone 6s cellphone was released with the iOS 9 system.
The Google Pixel XL 2 cellphone was released with the Android 8.0 (Oreo) system.
The sentences above contain 4 distinctive variables. Descra will insert different values in place of the variables and generate diverse versions of the sentence.
Is this enough to make the search engines love us, though? Not yet, and that's why we give you more possibilities.
2) Use the synonyms
The English language is full of synonyms and words of similar meaning. Descra gives you several ways of using synonyms. You can select one or more words and specify the synonyms of the selected phrase. To make it easier to use the editor, we give suggestions for some synonyms you can use. Additionally, you can create and use your own phrases to enhance your text. To speed up the writing process, Descra will temporarily remember every synonym you add within a particular template. As you continue working on your text, Descra will keep on suggesting your synonyms every time they fit.


An example of a sentence written in Descra, utilizing both variables and synonyms.
The Xiaomi Mi A3 cellphone was released with the Android 9.0 (Pie) system.
The Apple iPhone 6s mobile device is equipped with the iOS 9 system.
The Google Pixel XL 2 phone is geared with the Android 8.0 (Oreo) system.
With Descra, you can insert phrase variants in synonym placeholders and generate diverse versions of the sentence.
3) The date format
If your database contains dates, we will give you the opportunity to edit them and write them in different formats. Each additional data format increases the uniqueness of your texts.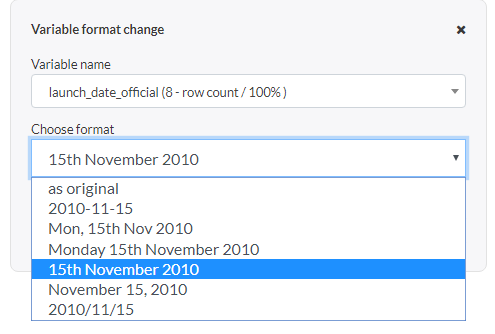 4) Number formatting
We know that the text can vary depending on whether the number is singular or plural. That's why when it comes to numbers we offer you a lot of possibilities

singular and plural forms
e.g.
There is only 1 sim slot
but
There are 2 sim slots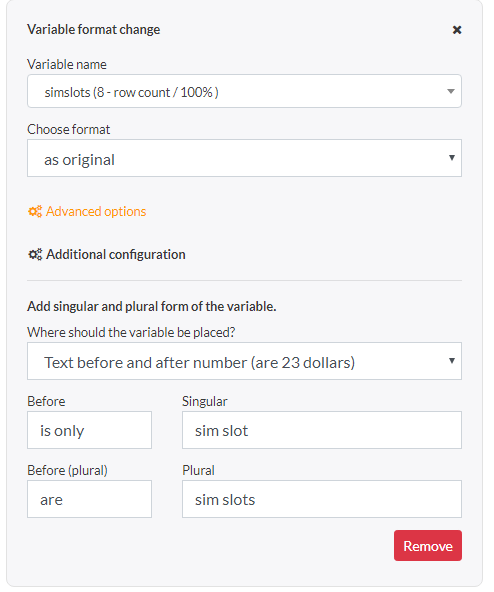 e.g. 11.92 -> 12
changing the numerical format to text
47 -> forty-seven
changing the numerical format to text in an ordinal form
47th -> forty-seventh
5) Article detection
The article may differ, depending on whether your noun begins with a vowel or a consonant. You can insert any word in a synonym or variable and check the 'Insert a/an before a synonym' box. Descra will take care of the correct article for the selected word.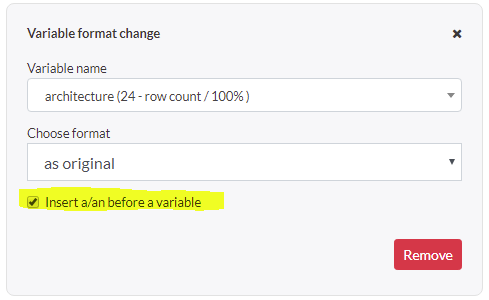 6) Filtering options
What if your database contains data that disrupts ready-made texts and makes them sound bad? Use filters to eliminate empty variables or those with a value of 0. Descra won't use these variables during the text creation process, making sure that none of your descriptions feel unfinished.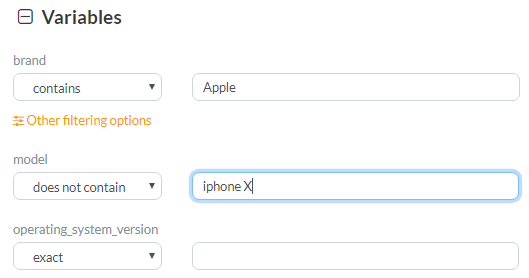 7) Save and check
We have written dozens of different texts using Descra. Checking if the texts meet your expectations is simple, as we show 10 samples right away. You will also find the score of your template - the more diversified your texts are, the higher score you will get. But since checking the whole text might sometimes be a bit overwhelming - we additionally divided the text into separate sentences and made it possible to analyze them individually.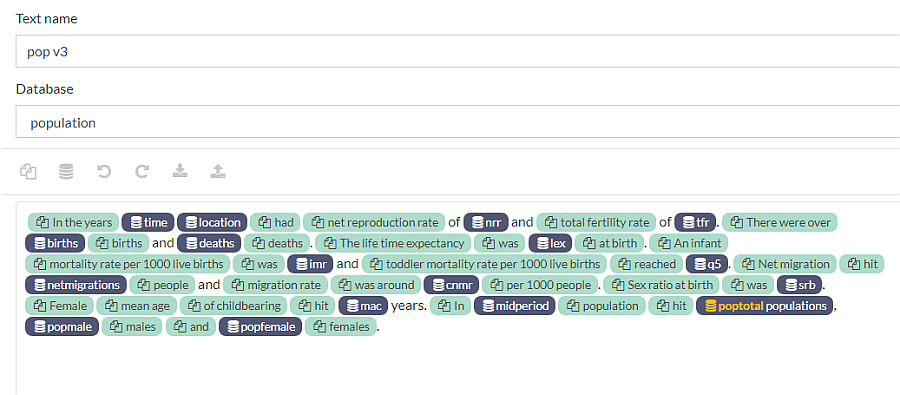 Text example
Step three - generate as many texts as you need
Click the text generation button and generate hundreds of texts. A correct database and well-chosen synonyms will make your texts perfect for your website. All that you need to do now is download your completed texts.. Descra provides you with the texts neatly saved in .txt format, so uploading them on your website is easy.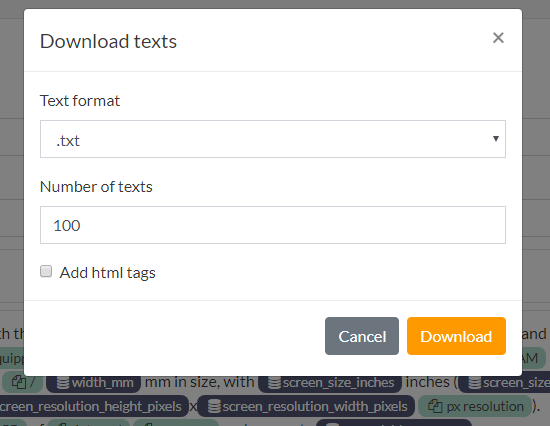 Examples
The text about phones - e-commerce product description example.

Generated text example #1:
The Samsung Galaxy S III telephone is geared with the Android 4.0.4 (Ice Cream Sandwich) system and was launched on 2012-05-29. It was equipped with a 32-bit Samsung Exynos 4 CPU, 1 GB of RAM and a Mali-400 MP4 video chipset. The phone is 136.6 by 70.6 mm in size, with a 4.8 inches (12.19 cm) Super AMOLED 16:09 display, which provides a user with a resolution of 1280x720. The cellphone has 16 GB of internal memory, the amount which can be bolstered by storage cards of up to 64 GB. Galaxy S III is equipped with a selfie camera of 1.9 MP and Bluetooth version 4. Galaxy S III has been equipped with a micro-SIM card slot and a 3.5 mm headphone socket. ‌‌It has a 2100 mAh Li-ion storage battery. ‌This Samsung telephone has a screen to body ratio of 65.71 percent and is 8.6 mm thick.
Other features:
water-resistant: no
LTE support: not available
SIM 2: none
unlock with fingerprint: no
FM radio: yes
wireless charging: no
NFC (Near Field Communication): yes

Generated text example #2:
The Honor 8 Pro phone was released with the Android 7.0 (Nougat) operating system and was put on sale on 2017-07-10. It was geared with a 64-bit HiSilicon Kirin 960 processor, 6 GB RAM and a Mali-G71 MP8 graphics chipset. It's 157 by 77.5 mm in size, with a 5.7 inches (14.48 cm) IPS LCD 16:09 display, offering a resolution of 2560x1440 pixels. The smartphone has 128 GB of internal memory, the amount which can be bolstered by additional memory cards of up to 128 GB. 8 Pro is equipped with a front camera of 8 megapixel resolution and Bluetooth version 4.2. 8 Pro has been equipped with a nano-SIM size slot and a 3.5 mm audio output. ‌‌It's equipped with a 4000 mAh Li-Polymer electric battery. ‌This Honor smartphone has a screen to body ratio of 73.44 percent and is 6.9 mm thick.
Phone features:
water-resistance: no
LTE: available
SIM 2: nano (hybrid)
fingerprint: yes
FM radio: no
wireless charger: no
NFC (Near Field Communication): yes
Save time, money and nerves
Preparing diverse descriptions can be annoying, difficult and time-consuming. With Descra, the time you would normally spend preparing 2-3 descriptions will allow you to create hundreds of great texts for your website. Register, look into the examples we have prepared and start writing your own texts!